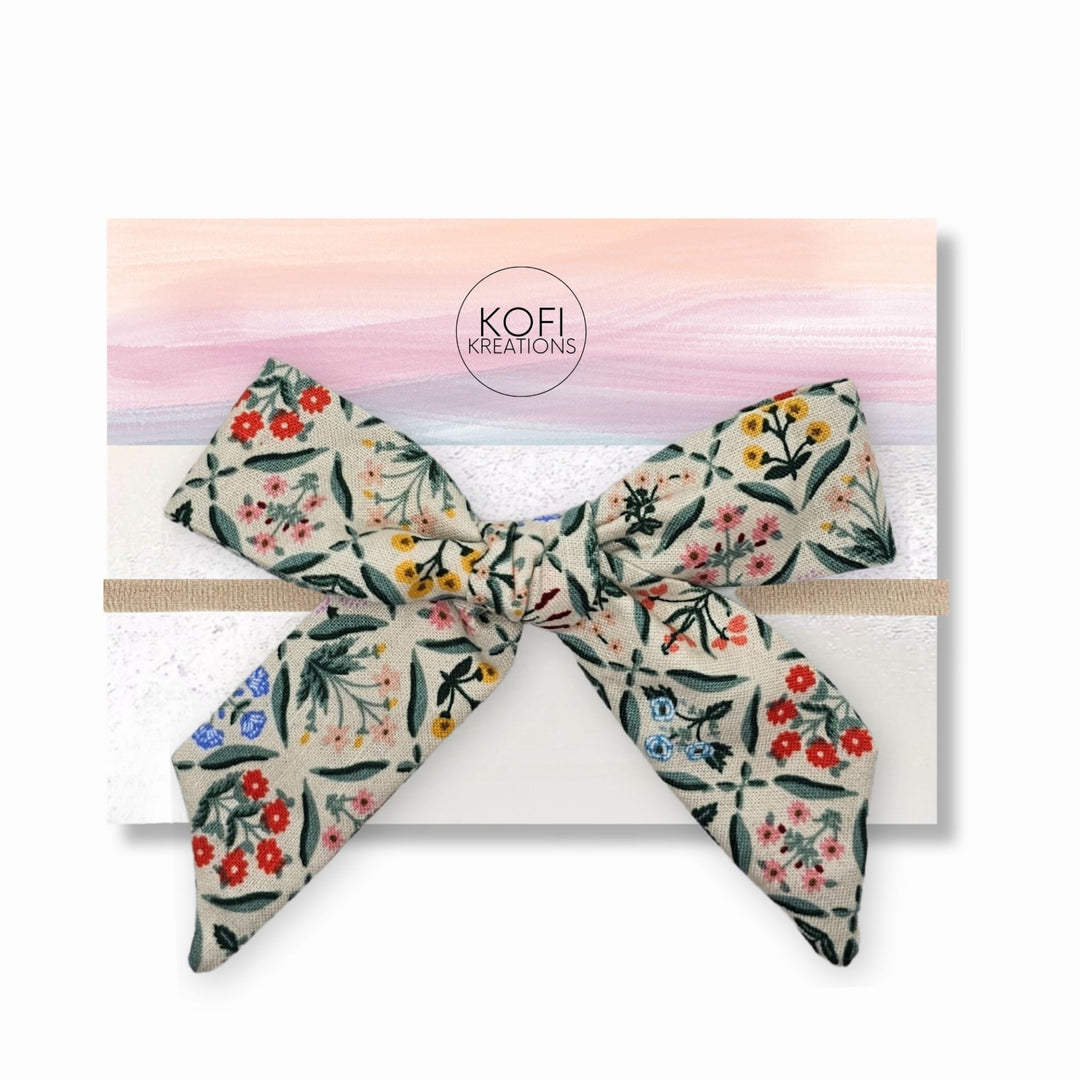 Carmel Flower Leather Hair Bow
---
Upgrade your sweetheart's hairstyle with the chic floral faux leather bow from Kofi Kreations. Top-notch faux leather ensures durability and ease of use. The beautiful, dainty pattern adds a hint of sophistication to any look. The size of this bow is perfect for all hair types and styles. Wear it by itself or mix and match with headbands and scrunchies for a personalized style. Perfect for any occasion, from parties to everyday outings! Make this must-have accessory a part of your little one's wardrobe!
Features/Benefits
High-quality material: The hair bows are made from top-quality faux leather, which is durable and long-lasting, ensuring that they will last for years to come.

Versatile style: The faux leather hair bows come in a variety of styles, shapes, and colors, making them a versatile accessory that can be paired with a range of outfits.

Easy to wear: The bows are designed with a secure alligator clip that makes them easy to wear and keeps them in place all day, even during active play.

Affordable: The faux leather hair bows from Kofi Kreations are an affordable way to add a touch of style and elegance to any hairstyle without breaking the bank.

Unique designs: Kofi Kreations offers a range of unique designs that are not commonly found in other hair accessories, allowing you to stand out from the crowd and make a statement with your hairstyle.
We look forward to seeing your sweet babe wearing #kofikreations.
Each hair bow is 4 inches, Mini Set 3 1/2 inches.
Includes: 1 Hair Bow Clip, or Mini Set 2
Material: Vegan faux leather, 1 3/4" Alligator Clip
Spot cleaning with warm water, soap and laying in a sunny spot to air dry is the best way to keep wearable at all times! We don't recommend placing them in the washer/dryer since they are very delicate accessories!
Shipping Policy: US Domestic Shipping Only
At this time, we would like to inform our valued customers that we currently only offer shipping services within the United States. We apologize for any inconvenience this may cause to our international customers, and we appreciate your understanding. 
General Information: All orders are subject to product availability. If an item is not in stock at the time you place your order, we will notify you and refund you the total amount of your order, using the original method of payment. 
Shipping Method: We utilize reliable and efficient shipping carriers to ensure the safe and timely delivery of your products. Our shipping partners are selected based on their reputation for secure handling and prompt delivery.
Shipping Duration: Unless there are exceptional circumstances, we make every effort to fulfill your order within 3-5 business days of the date of your order. Business day means Monday to Friday, except holidays. Please note we do not ship on [Sundays]. Date of delivery may vary due to carrier shipping practices, delivery location, method of delivery, and the items ordered. Products may also be delivered in separate shipments.
Once your order is placed and confirmed, we strive to process and ship it as quickly as possible. Our estimated shipping times within the United States vary depending on the destination and the shipping method chosen during checkout. Please refer to the shipping options provided at the time of purchase for estimated delivery times.
Shipping Costs: Standard shipping is free of charge for all US customers, with a minimum purchase of $40 or more. Express shipping is available at the customer's expense. Shipping costs are calculated based on several factors, including the weight and dimensions of the package, as well as the shipping method selected. The shipping charges will be displayed during the checkout process, allowing you to review and confirm the total cost before finalizing your purchase.
International Shipping: After careful consideration and evaluation, we have made the difficult decision to no longer offer international shipping services. This decision has been prompted by the increasingly unpredictable nature of customs fees and charges imposed by different countries.
Regrettably, many countries have implemented additional fees and taxes during the customs clearance process, which are beyond our control as a seller. We understand that these fees can come as an unwelcome surprise to our customers, and we want to ensure transparency in our business operations.
It is important to note that these additional charges are imposed by the respective countries and are not something we have control over or can predict. As a result, we cannot assume liability for any fees incurred during the customs process.
While we understand that this change may be disappointing for our international customers, we believe that it is in the best interest of both parties to avoid any potential misunderstandings or frustrations related to unexpected fees. We value your satisfaction and want to maintain a high level of trust and transparency in our business practices.
Please be assured that we will continue to serve our domestic customers with the same level of dedication and commitment as before. We appreciate your understanding and continued support.
If you have any questions or concerns regarding this policy change, please do not hesitate to contact our customer service team at sales@kofi-kreations.com. We will be more than happy to assist you.
Tracking Your Order: To ensure transparency and peace of mind, we provide order tracking services for all shipped packages. Once your order is dispatched, you will receive a confirmation email containing a tracking number and instructions on how to track your shipment. Please note that it may take a short while for the tracking information to become available.
Restrictions and Limitations: We kindly ask our customers to note that due to legal and logistical constraints, we are unable to ship products to locations outside of the United States. This includes international territories, APO/FPO addresses, and other non-domestic destinations. We apologize for any disappointment this may cause and appreciate your patience and understanding.
Shipping Address: To ensure accurate and prompt delivery, please provide a valid and complete shipping address within the United States. Double-check the address details to avoid any potential delivery delays or complications. In the event of an incorrect or incomplete address, we cannot guarantee successful delivery, and additional charges may apply for re-shipping or correction.
Damaged Items in Transport: We are not responsible for packages damaged during transport through your local United States Postal Service, or shipping carrier. You must contact these companies directly for damaged packages.
Customer Support: If you have any questions or concerns regarding our shipping policy or any other inquiries, please do not hesitate to reach out to our customer support team at sales@kofi-kreations.com. Our dedicated representatives are available to assist you and provide the necessary support to ensure a satisfactory shopping experience.
We appreciate your cooperation and thank you for choosing us for your product needs within the United States.
*Please note all international orders prior to June 28, 2023, have been shipped.