At Kofi Kreations, we take pride in using only the highest quality materials to create our hair accessories. We are committed to sustainability, and therefore, we make sure that our materials are eco-friendly and ethically sourced. We use organic fabrics such as cotton, linen, and silk to ensure that our products are gentle on the hair and kind to the planet. Our fabrics are carefully selected for their durability, softness, and ability to hold shape, ensuring that our hair accessories not only look great but also last longer. In addition, we repurpose leftover fabric scraps to create smaller accessories like scrunchies and headbands, minimizing waste and reducing our environmental impact. We believe that using sustainable materials is the right thing to do, and we are proud to offer hair accessories that not only make our customers look good but also contribute to a better world. Below is a brief description of the materials we use.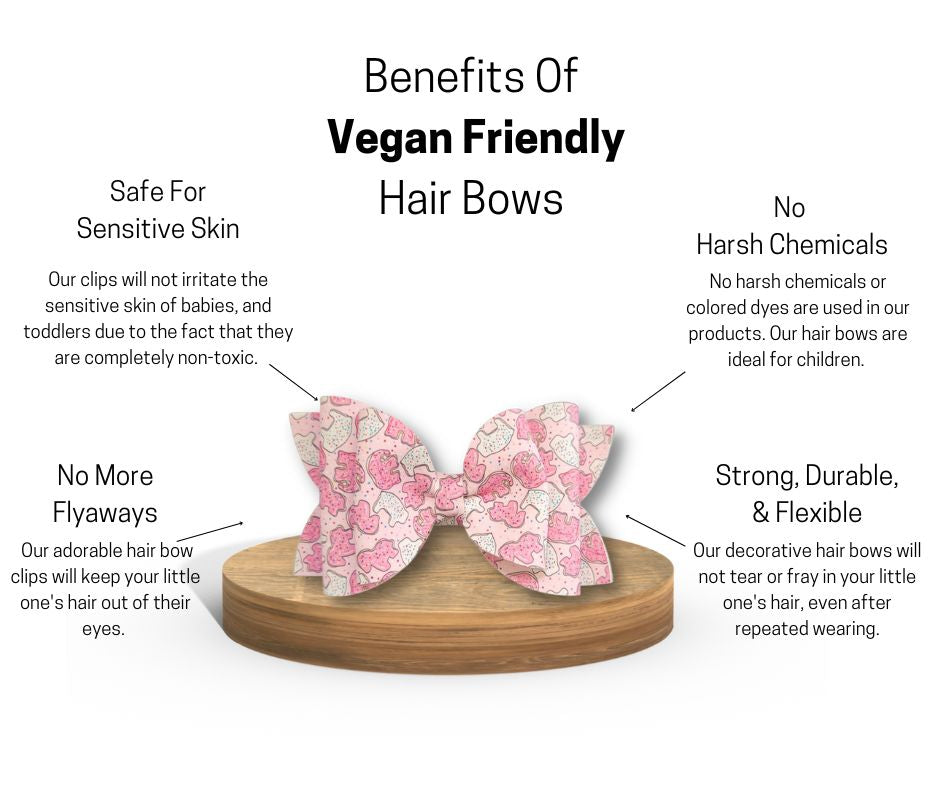 Glitter Fax Sheets
Glitter Faux sheets is an animal-friendly material made from polyester microfiber that is woven into a thin, soft, but very tough plastic fabric. 
Vegan Faux Leather
Vegan Faux Leather is good for the environment and animal cruelty free. Faux leather is also known as polyurethane leather, or PU leather. It is artificial leather made of thermoplastic polymer. Faux leather is durable and non-toxic. 
Grosgrain Ribbon
Grosgrain ribbon is one of the best ribbons for hair bows. Grosgrain ribbons are thick yet flexible. The ribbon does not fray on the edges and cut ends can be easily stopped from fraying compared to other ribbon types. They are exceptionally durable, sturdy, and can withstand various treatments to achieve the bow you want. The ribbon's soft-textured, transverse ribs created by its weaves add a nice touch and the ribbon looks neat and tidy overall when tied into a hair bow. 
Suede
Faux suede is an animal-friendly material made from polyester microfiber that is woven into a thin, soft, but very tough fabric.
Fabric
Cotton, and Linen Fabrics are fabrics that breathe. Made from a soft, fluffy staple fiber, Cotton grows in a ball around the seeds of the plant. The fibers of cotton are hollow and upon close inspection resemble twisted ribbon.
Velvet
The soft textured Velvet exudes luxury and elegance. A tightly woven fabric (originally of silk, also made of cotton or synthetic fibers) with a thick short pile on one side. This soft fabric has a smooth, dense pile. Kofi Kreations uses high-quality one-sided velvet. The underside is made from cotton. 
Chiffon
Chiffon is a soft and delicate fabric that is plain-woven in a mesh-like fashion which makes it slightly transparent. Chiffon fabric is a lightweight fabric made from 100% polyester and woven blends of various fibers.
Satin
Satin is a smooth, glossy fabric, usually of silk, produced by a weave in which the threads of the warp are caught and looped by the weft only at certain intervals. Satin is a strong and durable fabric that does not wrinkle easily.
Finishes
We use alligator clips, elastic bands, nylon, and metal headbands. All materials are hypoallergenic. .