Hairstyles can help empower confidence in women
While some people go about their days with little to no planning, you plan your hairstyles for a variety of reasons. Many people accept a simple trim or cut at the hair salon every now and then, but your elegant hairstyles are constantly causing unwarranted controversy.
A stunning haircut or even a new hair color can provide psychological relief for many people, as if they are starting a new chapter in their lives. Making these decisions based on the criticism of others, on the other hand, makes you feel undervalued, weak, and powerless over your own decisions.
A 2019 study conducted by the JOY Collective said Black women were 80% more likely to feel pressure to change their hairstyles in order to fit in at the office.
"It's okay to look like who you are. It's okay to have the texture hair you have. You don't need to look like anybody else."
"We should love ourselves the way we are and not try to fit into this box."
Samantha Everett (video journalist).
"Natural hair is not hard to manage, you just have to understand your hair type. Know the products that work for your hair, and then with time, once you understand it, it is very easy."
Abena Hagan (Curls-AuNaturel, Founder).
We found proof in the hair pudding to make light of these discoveries.
California passes a discrimination hair act empowering women
—
After years of advocating for legislative reform at the national level, Congress finally took action on race-based hair discrimination.
First introduced in California in January 2019 and signed into law on July 3, 2019, the inaugural CROWN Act expanded the definition of race in the Fair Employment and Housing Act (FEHA) and state Education Code, to ensure protection in workplaces and in K-12 public and charter schools.
The U.S Senate enacted the new bill in April 2022, which amends anti-discrimination rules to cover "traits historically associated with race" and "blackness." The Act to Create a Respectful and Open World for Natural Hair of 2022.
Several states have already implemented their own versions of the CROWN Act. On March 17th, 2022, Massachusetts became the latest state to pass a local ban on hair discrimination. Yet, with 15 states down and 35 to go the task is still an uphill battle.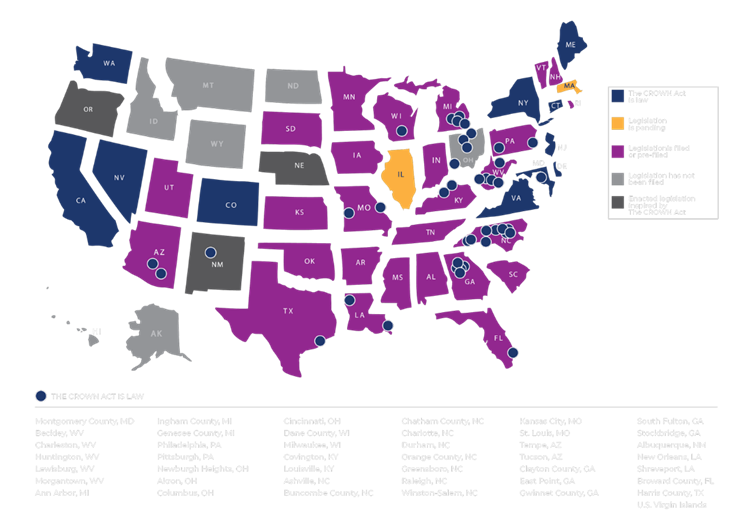 ii-Crown-hair-act-revolution-state-map
Banning hair portrayal by media to empower women
—
Regardless of a woman's age, her nationality, or the texture of her hair, whether natural or highlighted, continues to make many women feel insulted by media representation. Females dealing with societal pressure and a lack of readiness from parents with hair have numerous scars and agony, as a man, I can tell you.
It got to the point where I ditched a girl in middle school after a buddy taunted her about her naps and dry scalp. As a result, we see that self-consciousness about their own hair in young girls can last until adulthood and even be passed down.
"Hair discrimination starts early and continues until she gets older." Dove CROWN Research
After all, the last thing you'd want to do back then, and clearly, now, insult a woman's hair because of your opinion of them.
As we look into the rest of 2022, we have much to celebrate in the recent news as we now would ban race-based hair discrimination at work, in federal programs, and in public accommodations.
We have discovered a better way to feel about yourself to restore more confidence in the minds of females affected by post-traumatic hair dilemmas.
Wearing hairstyles and accessories empower all women and girls
—
Over time, the number of women who prefer long-lasting and luxurious braids has grown. With the right hairstyles come the right hair accessories to help women and girls reach their full potential.
For Riverdale star Asha Bromfield, her source of empowerment came in the form of letting her natural hair down.
Rich text
"I spent 22 years trying to get my hair to do something it was never made to do, and frankly, never wanted to do," she revealed.
"I stopped running from myself, and within freeing my hair, I freed myself. I have never felt more "me" in my life."
She went from straight to curly as the natural hair movement gained momentum.
"I remember coming up when I was small not so many women were wearing their 'fros and their kinks and TWA's (Teenie Weenie Afro). Now it's kind of like a revolution,"
Corey Watford explained.
—
Kofi Kreations is the company I'm mentioning today which tackles most of these issues. Let's look at some of the customer feedback in the video below.
"I get so many compliments when I wear my Red Pepperdine Hair Bow."
Erica Blake.
Taking a look at the efforts and goals of this company I believe the owner is taking strives in making a huge difference in empowering confidence and certainty in women's hair.
"What motivates me every day is to see the pure happiness on a little girl's face when she is wearing my hair bows or scrunchies."
Take pride in how unique you are and love yourselves."
Tameka L. Jones (Kofi Kreations- Owner)
Kofi Kreation's online business empowers women and girls from hair discrimination
—
Tameka is a mother of three and a teacher with over 13 years of experience. Kofi Kreations is a family-owned business that began at her kitchen table.
Kofi Kreation's online business empowers women and girls from discrimination based on hair color. Her daughter requested that she make large scrunchies for her thick hair.
Our Mission:
"Handcrafted hair bows made with love designed to join your little ones on fabulous adventures and wonderful journeys throughout childhood."
Tameka learned how to use a sewing machine after watching a DIY video. It took countless hours of practice, patience, and difficult work. The house quickly became overrun with hair bows, scrunchies, and headbands.
Tameka then sold products to family, friends, and coworkers, and with their support, she founded Kofi Kreations.
Every day, she is inspired by the pure joy on a little girl's face when she wears one of the hair bows or scrunchies.
"I create handmade hair bows to bring smiles on the faces of little girls. A turning point for me is when my first customer sent me photos of her granddaughter wearing the hair bows that I made.
"Her granddaughter was so happy she could not wait to try them on. That moment was incredibly significant for me." -Tameka L. Jones
Final thoughts on Kofi Kreation's online business for empowering women and girls
These bows are one-of-a-kind, fabulous, and well-made to last. I believe her thoughtfulness and attention to detail, from the quality of the fabrics she chooses to the handmade embellishments she adds, will result in a wearable piece of art that you will adore. Simply refer to her as the founder of JOYFULLELEMENTS.
Tameka's family runs their online business with all hands on deck. They aid in quality assurance, inventory management, and packaging. She takes great pride in each hair bow, headband, scrunchie, and hair clip she creates. Her ambition is to create wearable works of art that will make you smile.
In addition, all young girls and women should feel beautiful, confident, and fabulous. Take pride in your individuality and love yourself.
Contact Kofi Kreations — sales@kofi-kreations.com
May 30
https://medium.com/@chazzypop/how-is-the-hair-evolution-empowering-womens-confidence-cd3e78dd93d5
How is the hair evolution empowering women's confidence?
---